We've all been there – you open up your cupboard or closet, only to be greeted by a chaotic mess of clutter. It can be overwhelming and discouraging, but fear not!
We have compiled 5 creative ways to organize your closet or cupboard. Whether you're looking to keep, store, sell, donate, or discard your items, these tips will help you get organized and make the most of your storage space.
Let's tackle a closet …
So, roll up your sleeves, and let's get to work on creating the organized space you've always dreamed of!
Step 1 - Keep - what you need, love, and use.
The first step to decluttering your space is to keep everything that you need, love, and use. It's crucial to take a good look at your items and decide which ones you want to keep.
This means that you need to arrange them neatly so that you can easily find what you need without wasting time.
Ask yourself, "Do I need this?" "Do I love this?" "Do I use this?" If the answer is yes, then keep it. However, if it doesn't fall into these categories, then it's time to let it go.
While deciding what to keep, consider the amount of space you have. You don't want to keep items that will take up too much room or simply clutter your space.
Tips To Keep Your Essentials In An Organized Way
Once you've decided what is staying, take a few minutes to sort everything by function.
Consider separating your clothes into work wear, active wear, casual wear, etc. This will make it easier to find the items you need each day at a quick glance.
One effective way to keep your closet under control is to use storage containers such as baskets, bins, and shelves.
BUT, avoid purchasing a bunch of beautiful containers before you know your needs clearly.
Measure your space and then shop for the appropriate containers to best fit your closet and maximize the storage you have – from top to bottom.
Shoe shelves, over-the-door racks and baskets are excellent tools to make the most of your space.
You can use them to organize your shoes, socks, scarves and accessories neatly. They are easy to set up, and you can find just the right ones to serve your purpose.
At TimeSquared, our organizers can help you keep items neatly arranged and create extra storage by using whatever space is available like vertical wall space and the back of your cabinets.
Step 2 - Store - items that are seasonal or sentimental.
Sometimes, we have items that we don't wear often but are still valuable to us and necessary to keep. These may be items such as formal wear or bulky winter coats. For these types of items, it's best to store them in a designated space.
If you have items that you don't use often, you can store them away to create extra space in your closet. Some people like to store off-season items in a basement closet and change them out to maximize their usable space each season.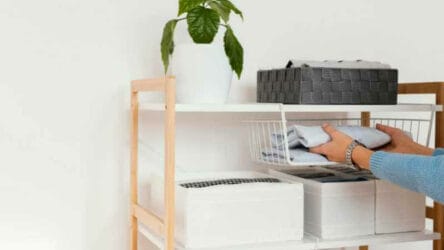 At TimeSquared, we offer decluttering and organization services that will help you make the best use of your available space. Our team of organizers can come up with solutions that work for you and help you create extra storage and organize your items for easy access.
Step 3 - Sell - items that are in good condition.
If you have items that are still in good condition but no longer serve a purpose for you, consider selling them. This not only helps you earn some extra cash but also helps the environment by reducing waste.
How To Sell Items And Earn Extra Cash?
There are many ways to sell your items –
You can use online platforms such as eBay, Amazon, or Facebook Marketplace. 

You can also have a garage sale or sell your items to consignment shops.

Before selling your items, make sure you research the best price for your items.

You can also take pictures of your items to attract potential buyers.

Once you have sold your items, you can use the extra cash to buy new items or pay bills.
Step 4 - Donate - items to charity.
Donating items to charity is a great way to give back to the community and help those in need. It also helps reduce waste and clutter in your home.
TimeSquared suggests donating your items to reputable charities and keeps an ongoing list of which charities accept which items.
Or if you're too busy, ask us and we'll be happy to take your items to the best charities for them.
Tips When Donation To Charity
Where can you donate baby goods in Edmonton?
Basically Babies is a local charity that provides complete first-year wardrobes for newborns born to families in need. They take small toys, blankets and infant clothing from Newborn to 24-month sizes.
How can you support the employment of adults with disabilities?
Goodwill is an organization whose mission states that 30% of their staff will always be disabled adults. Their work supports providing work and dignity to these individuals. They accept and use clothing, small furniture and household items – reusing and repurposing as much as they possibly can.
How can you help individuals and families who are transitioning out of homelessness?
FIND is a social enterprise that provides essential furnishings free of charge to individuals and families who are transitioning out of homelessness, and supplies low-cost, quality furniture and housewares for sale to the public. They accept most furniture, home decor items and small appliances.
Where can you donate building materials, furniture, appliances, and household goods in Edmonton?
The Habitat for Humanity ReStore accepts a wide variety of building materials, furniture, appliances and household goods that can be refurbished and resold at affordable prices.
Step 5 - Discard items that are no longer usable.
For pieces that are stained, incomplete, damaged, or no longer usable, it's best to discard them. But keep in mind that some charities also accept damaged items to be re-purposed by other organizations. Better to give them somewhere where they'll be used than to add them to the landfills.
Conclusion - Get Creative And Sort Your Abode
Sorting out a space or cupboard doesn't have to be a daunting task. By following these 5 ways, you can learn how to organize your belongings in a way that works for you.
Remember to keep, store, sell, donate, and discard, and get creative with your use of space. With a little effort and dedication, you can transform any cluttered space into an organized and tidy oasis.
If you're short on time or need some extra help, our Personal Concierge and Errand Services team is here to assist you. We can help you with everything from closet systems and pantry organization to organizing your kitchen.
Contact us today to learn more about our services and how we can help you create extra storage and make things easier for you and the people in your house.